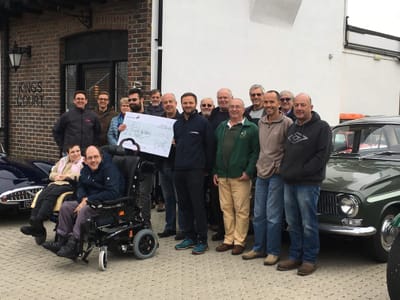 The Firle hill climb revival came first and the Bo Peep Drivers Club followed soon after. The name of the club took inspiration from the group of people who took part in that first revival back in 2015 and therefore drove up the lane at Bopeep bostal in their classic cars. So of course the club is about classic cars, the hill climb at Firle and having fun. There are monthly meets and the odd track day thrown in for good measure.

Most importantly though, it is about using our classic cars to raise funds for our two chosen charitable causes. The Southfield Trust of Eastbourne and CHEC of Chailey. The club itself is not a registered charity but a registered not for profit limited company that raises funds on behalf of other charities.

The club itself relies upon volunteers to help run the club, stage the hill climb and other events. The revised and modest membership fee* covers the cost of administration and includes a £10.00 donation to our chosen charities. In return for your membership payment you will receive a badge, car sticker, key fob, email up dates and bi-monthly electronic news letter. Membership of the club does not necessarily guarantee a place in the hill climb paddock.

The club requires those who are happy to assist, especially with the running of the hill climb even if they were not successful in gaining a place in the paddock that year. We need marshals, car park attendants, binmen (or women) and anyone who is prepared to pitch in. It is about helping others and giving something back. It is not just a pay and turn up event but a commitment to help those less fortunate than ourselves.

* The new membership fee of £20.00 per annum and package will start from January 1st 2021.